Please Note: The CharityVillage crowdfunding platform is only for Canadian organizations at this time.

To create a campaign, please follow these instructions:
Step 1: Click here to be directed to the CharityVillage crowdfunding platform. Or, type give.charityvillage.com into your browser and click ENTER.
If you are accessing the crowdfunding platform for the very first time, you will be asked to create an account when you reach step 4.
Step 2: Click the orange Raise money now. Get started for Free button to the right of your screen.
Step 3:

Begin
Enter a brief introduction of your campaign in the What's your cause? field and a catchy title in the Add a Title field.
Tip! The information you enter will be shared on social media and elsewhere. Make it compelling and don't forget to ask for help from your audience—that's very important! You can tell your complete story in the next step with as many words and pictures as you'd like.
Click the Preview button at the top right of the page to take a quick look to see what your campaign looks like with the information you just added. You can view it in desktop, mobile or tablet mode.
Once you're finished, click SAVE & CONTINUE.
IMPORTANT: You cannot run a raffle or online contest without a license from relevant government authorities.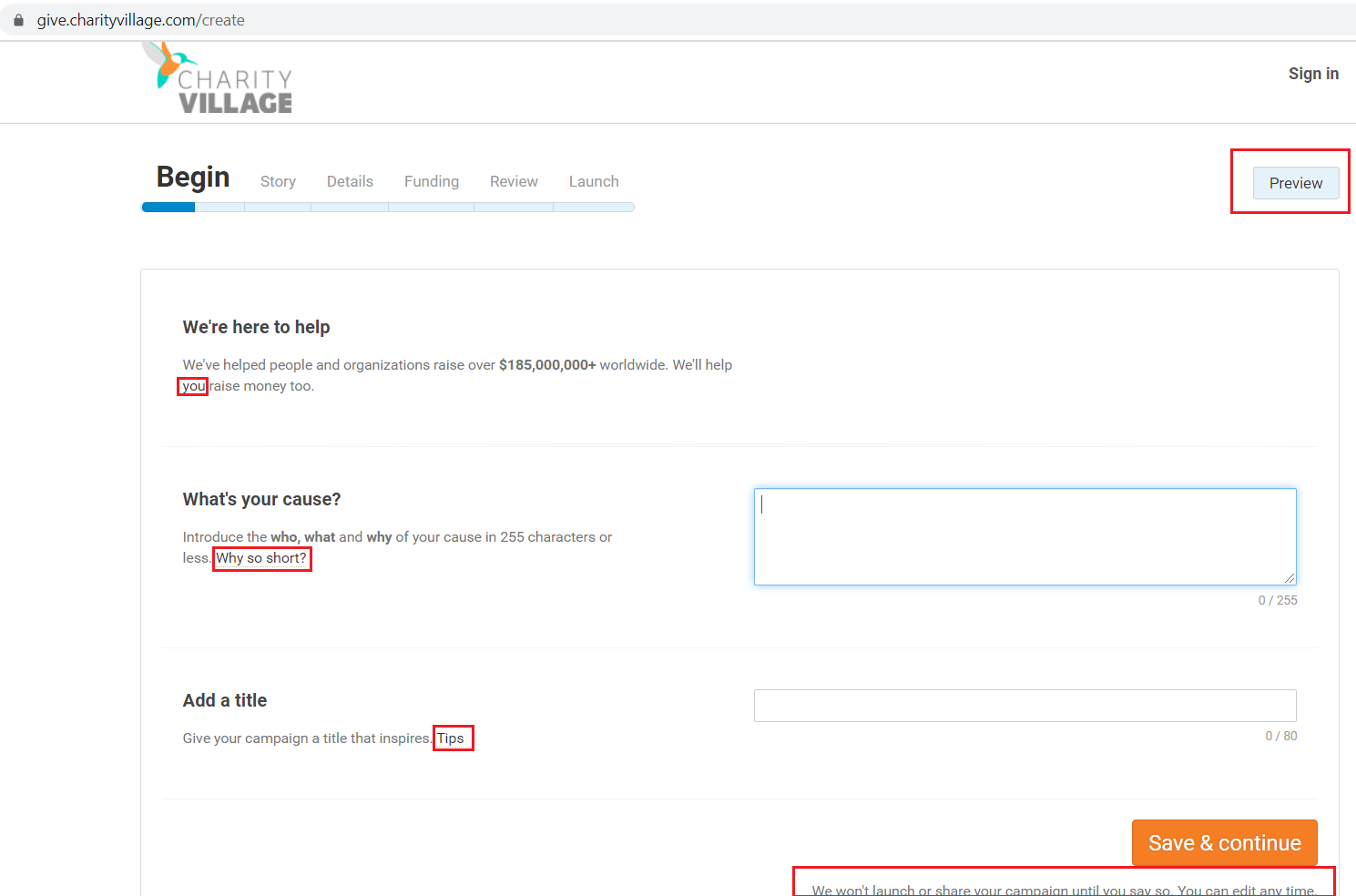 Step 4: Create your account.
If you have never created an account on the CharityVillage crowdfunding platform, you can choose to register with your existing Facebook or Google account. Or, just enter the email address you want to use to sign in and access your crowdfunding campaign going forward.
IMPORTANT NOTE: If you have an existing CharityVillage account (www.CharityVillage.com), this cannot be used to sign into the crowdfunding platform. However, you can use the same email and password to create your crowdfunding account!


Step 5: Story
Add a picture and explain more about why you are trying to raise funds.
We strongly recommend adding a picture that represents your cause. Click on More Tips to reveal further information.
Click on 5 essentials to reveal the information we recommend to include in the story you wish to tell about your cause. You can also choose to come back and do this later or make edits, before you launch your campaign.
To preview how your current campaign looks, click Preview at the top right of the page.
Once you are finished, click SAVE & CONTINUE.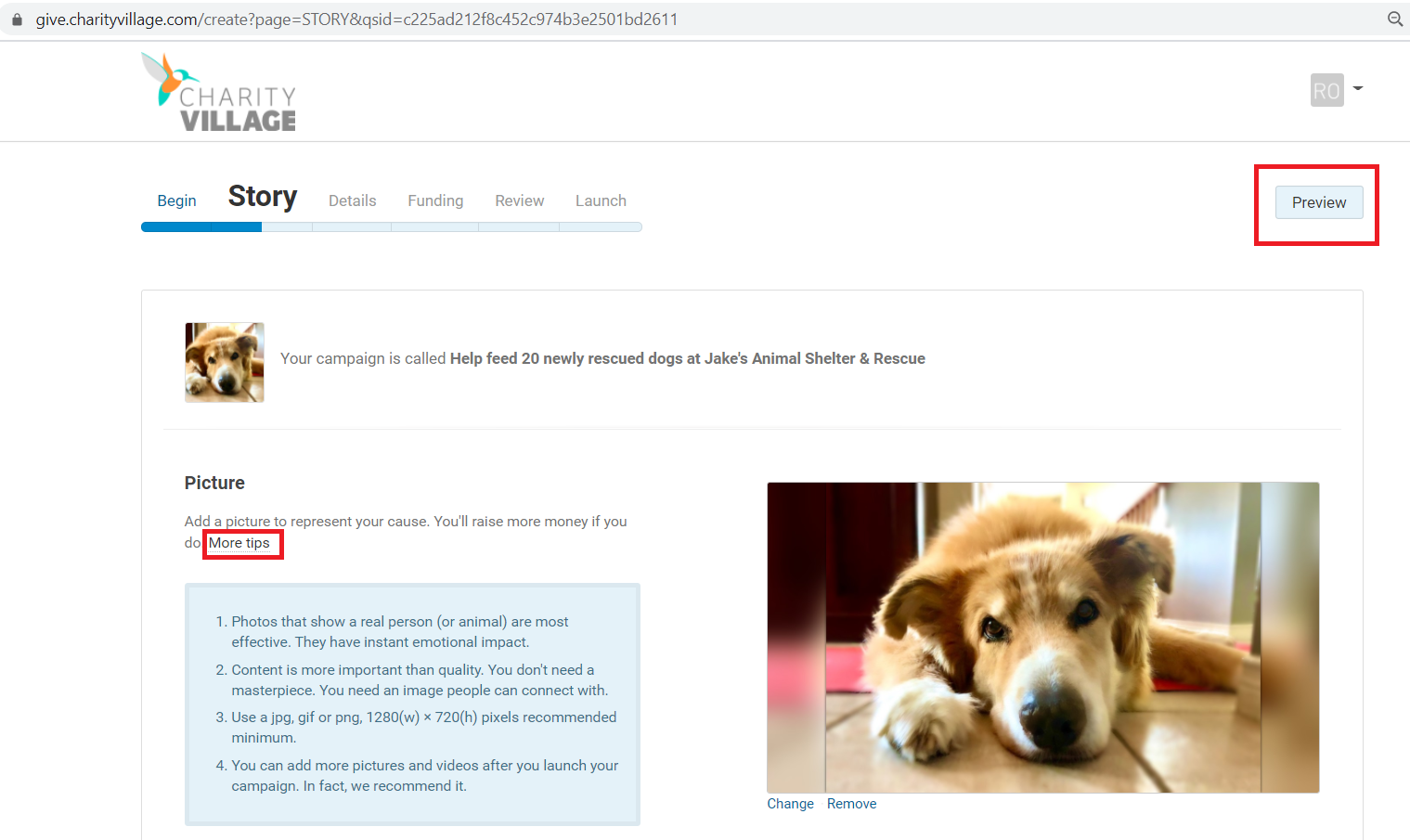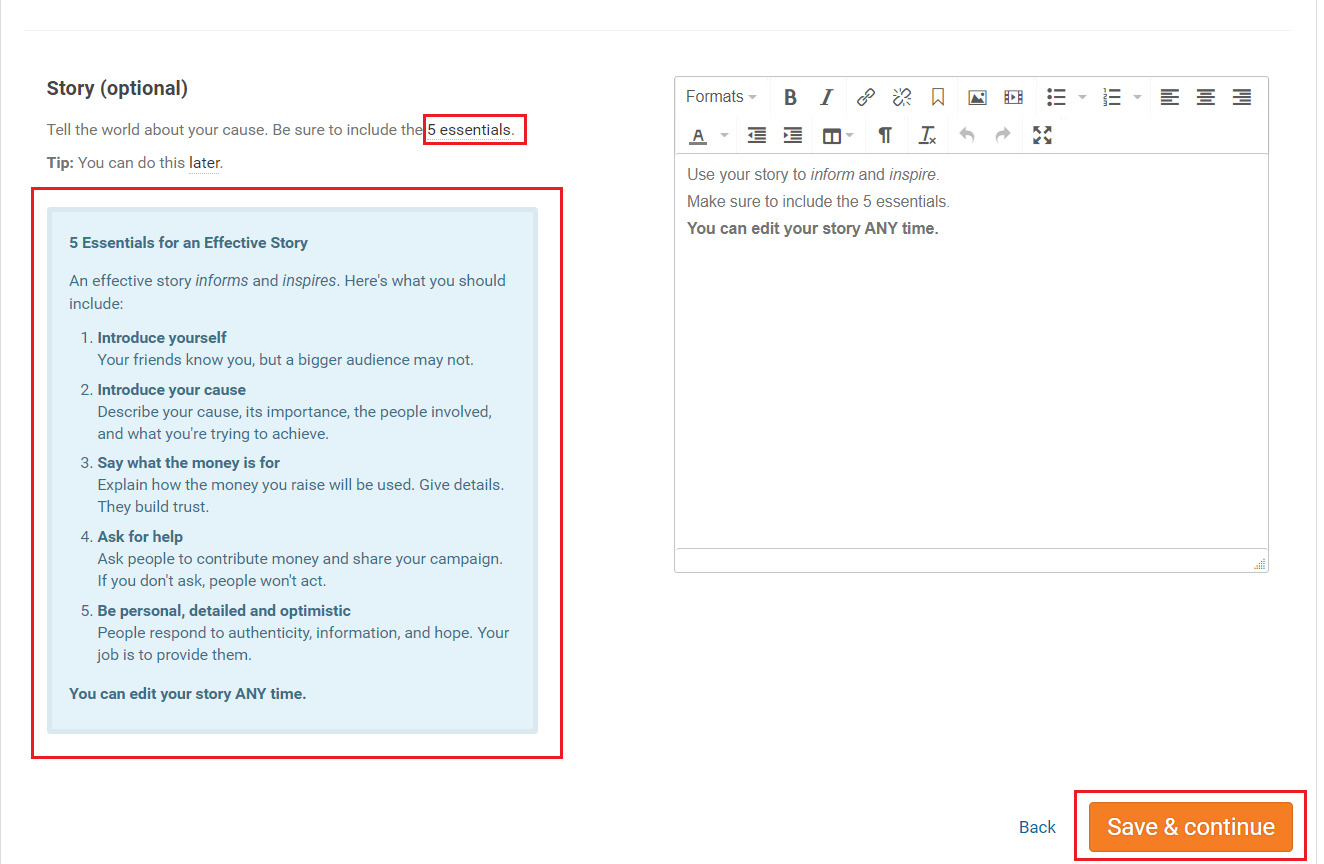 Step 6: Details page
a) Your location - Add a location for your campaign. This helps people find your campaign and helps us provide options that will work for you.
b) Currency - Choose Canadian dollar, unless you are collecting money in a different currency.
C) Funding Type - We recommend choosing Keep it all which allows you to keep the funds you raised and access it immediately.
d) Goal (recommended) - Setting a goal is a powerful tool to that motivates donors. But, be careful you don't set a goal too high as it can discourage support. You can always extend the goal once you get closer to hitting it. Click Why for more tips!
e) Deadline (recommended) - It's important to set a deadline that creates a sense of urgency. You can always come back later and edit the deadline if you want to extend. Click More for additional information and setting a deadline.
Once you're finished, click Save & Continue to move on to the next page.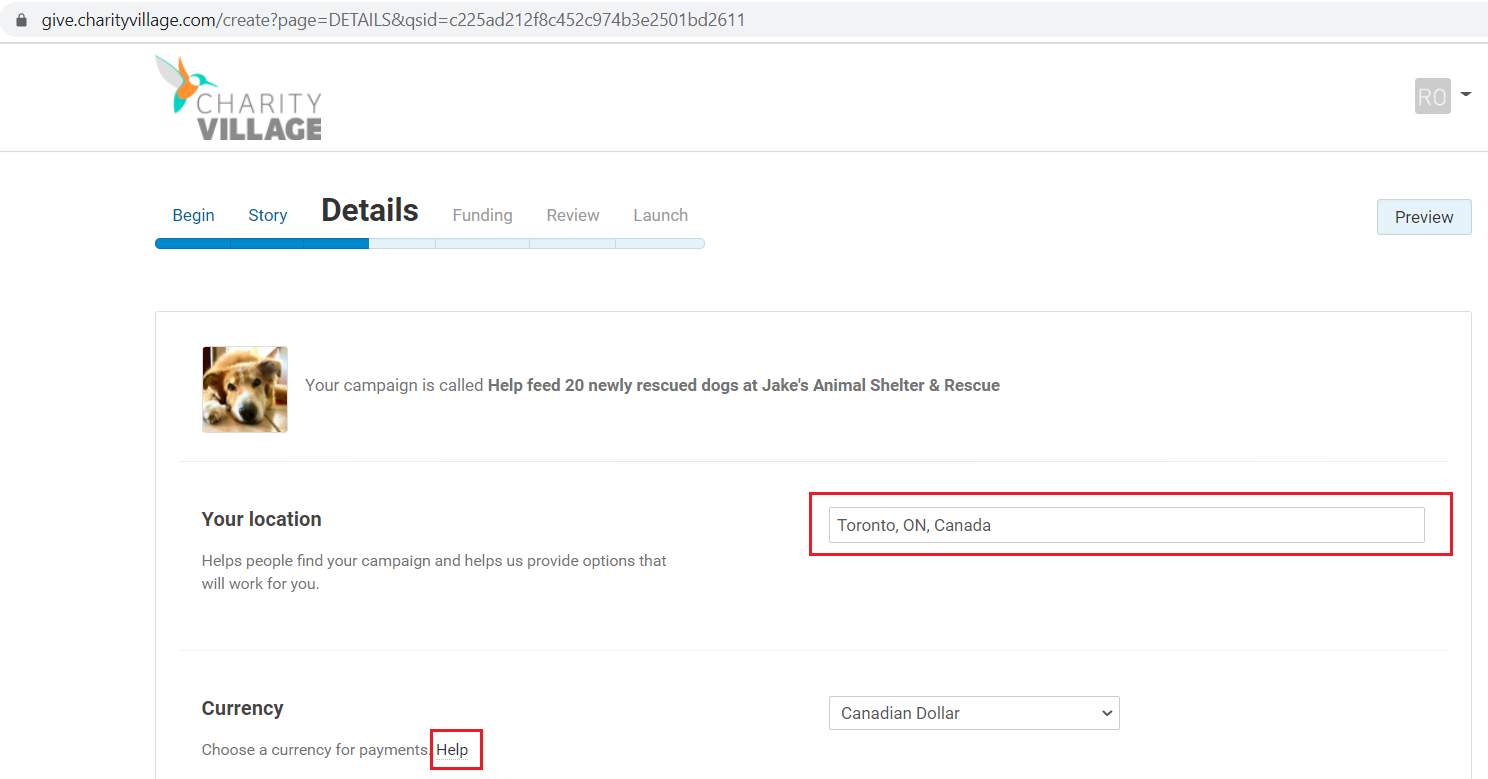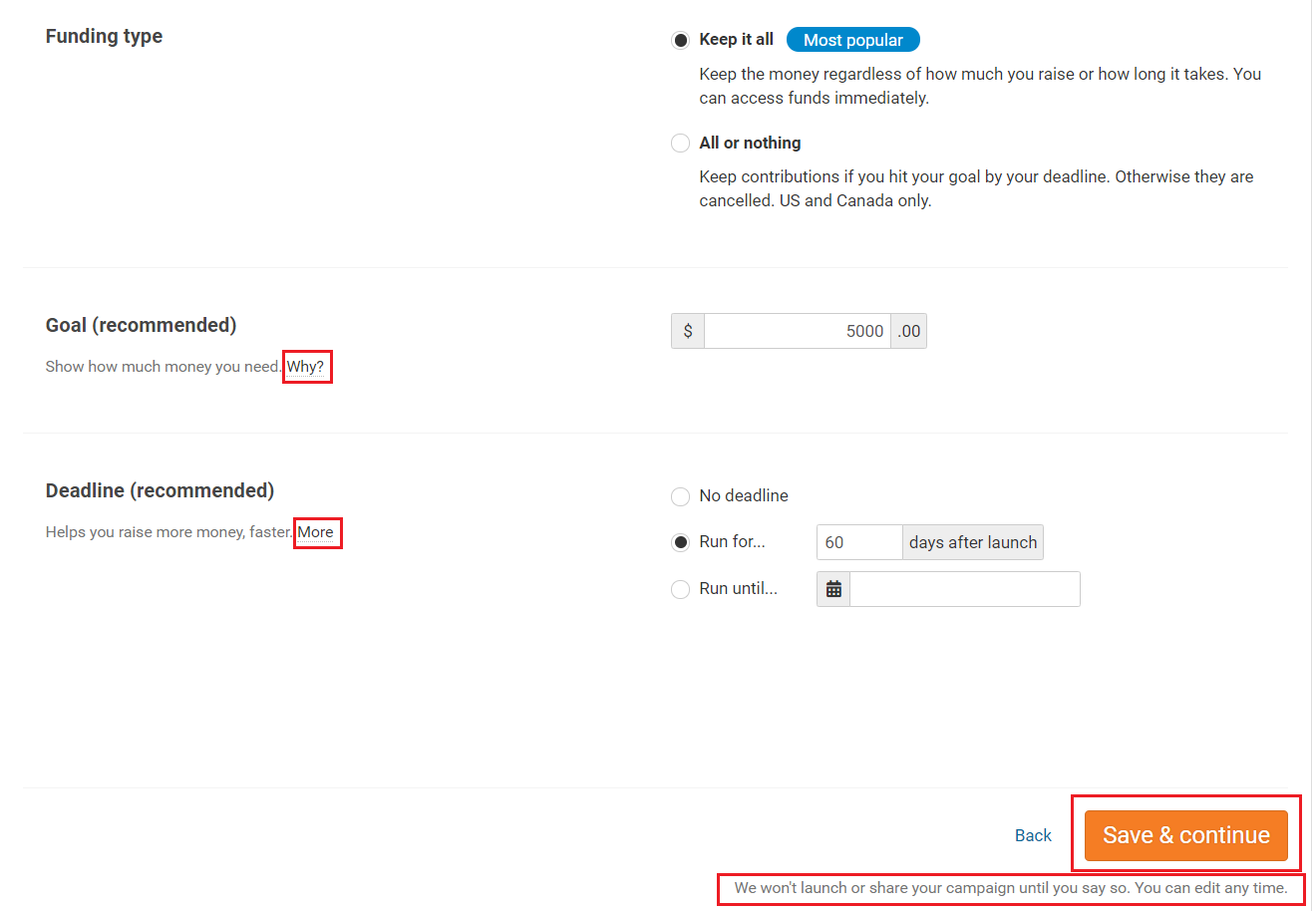 Step 7: Funding
This page is where you will indicate who receives the funds and add the banking information. For this example, we chose to select the organization will receive the funds.
Once you make the selection who receives the funds, more fields will appear on the page to be filled out.
Fill out the necessary fields and click Save & Continue.
If you are not sure of all the details, just click the box I'll provide the details later so you can save the information you have filled out on this page.
IMPORTANT NOTE: Creating a campaign is FREE!
Contributors pay no fee but we ask for a modest, optional tip to support our fundraising platform.

Recipients pay third-party payment processing fees of 2.9% + $0.30 per transaction.

There are no additional fees or penalties.
Click

Change

under the category

How much does it cost?

This allows you to see the Industry Standard or Pro options. We recommend you review these options just in case you prefer a different one!
Once you're finished, click SAVE & Continue.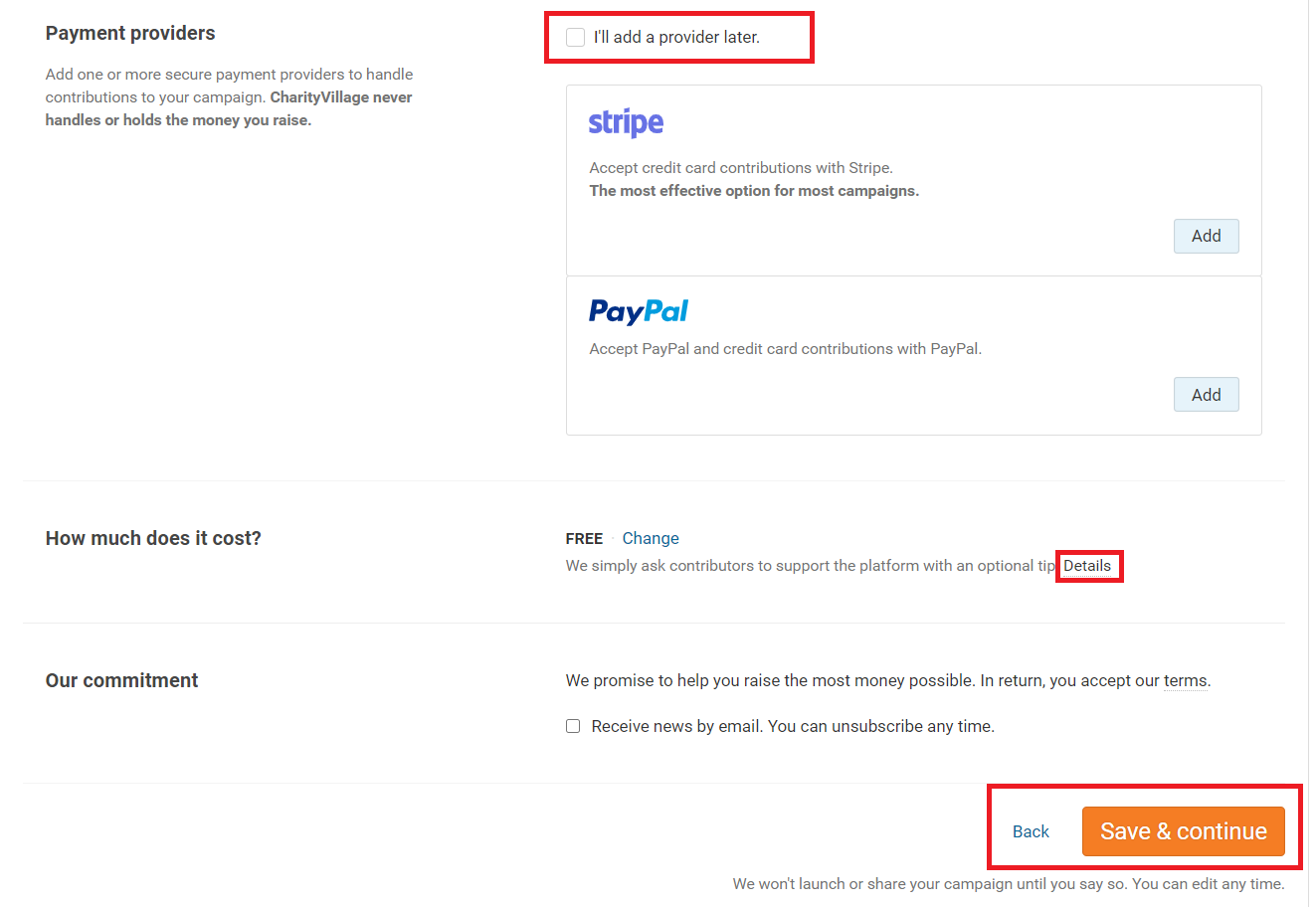 Step 8: Review
Click Review your campaign. This will allow you to see what your finished campaign looks like.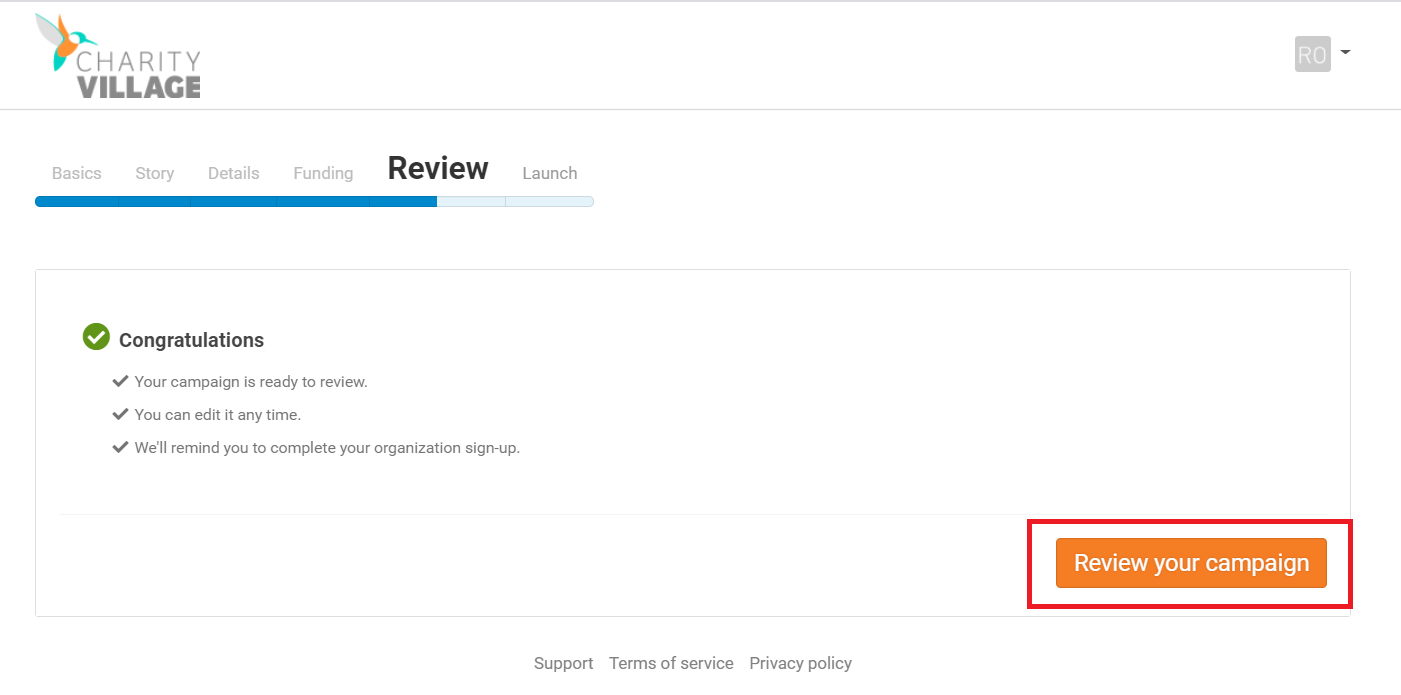 If you included all of the information to launch your campaign (including banking information), it will take 24-48 hrs for it to be approved. You will receive an email once your campaign has been approved.
Please Note: CharityVillage operates between the hours of 9am-5pm EST, Monday-Friday. If you post your campaign over the weekend, it will be approved the following business day.
Have questions? Please contact Robyn Ojala, CharityVillage's Crowdfunding Associate at robyn@charityvillage.com